.
Jane Francis 1827 - 1901
31 Oct 1827 (1828) - 1901
wife of (W2) William Richardson
..
By the time of the 1901 census in Kingston, Jane's husband, William Richardson b. 1828, had been dead many years and their oldest son had moved to Manitoba
The 1901 Census lists Jane as living in Sydenham Ward with two daughters, Ellen (which I presume was Helen) and Margaret.
We knew about Ellen (we had her listed as Helen) but did not know about Margaret until May 2006 when cousin Frank Lane provided some info.
The only thing that is of concern is that the date for Jane's birthday, listed in the Kingston Census, is 1828 whereas family records show it as 1827.
She was in fact a year older than her husband.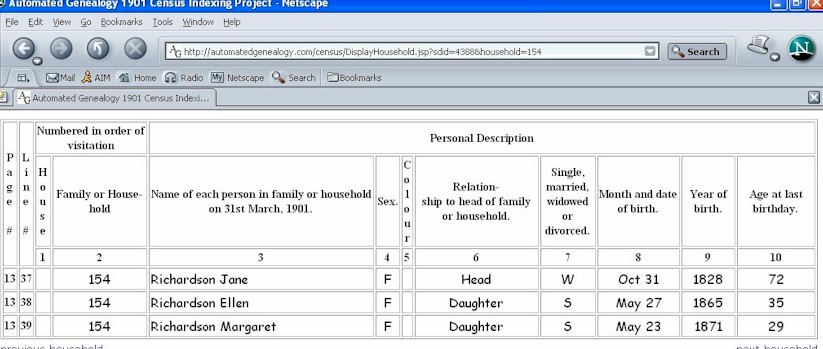 Kingston (City) Sydenham (Ward) F-2 13 50
from http://automatedgenealogy.com/census/SubdistrictSummary.jsp?subdistrictIndex=4388
from 1901 for Kingston http://automatedgenealogy.com/census/districts/district77.html
the original



lists 1861 as the year she immigrated

changes last made 2006 May 29